Welcome
Welcome to Mosen Consulting.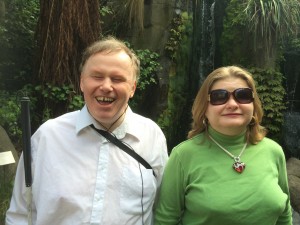 It's often said that information is power. But at Mosen Consulting, we like to focus on information that leads to opportunity.
Whether you buy one of our audiobooks or eBooks, read an item on our blog, learn something useful from our podcast, have us help you put a great website together, or have us work with you one-on-one to advance your vocational or technology skills, it's all about blindness information for blindness opportunity. Let's seize the information at our disposal, and see those barriers come crashing down.
Mosen Consulting is operated by Jonathan and Bonnie Mosen. We also partner with other authors and experts to bring a range of blindness information to you either free, or at affordable prices.
For over 30 years, Jonathan has  used, help to test, and even designed assistive technology. He's worked with mainstream hardware and software developers as a consultant and advocate to ensure that the needs of blind people are taken into account in mainstream solutions.
He has also put in a lot of work explaining stuff. Through shows like ACB Radio's Main Menu, which Jonathan started back in 2000, various audio tutorials, podcasts and books, Jonathan loves sharing his boundless enthusiasm for the power of this technology to change lives. His  aim is to communicate even complex technological subjects clearly, so even more people can benefit from the sense of independence and empowerment that he have experienced.
But Mosen Consulting now provides information well beyond the technical. After all, for most of us, technology is the means, not the ends, and there's more to leading a fulfilled life than tech.
It can be argued that technology has changed much faster than inaccurate myths about blindness that persist, resulting in rampant unemployment and underemployment among blind people. Being as skilled as possible with technology is vital in today's job market, but it's only part of the equation. Marketing yourself, presenting yourself appropriately, social skills, being physically healthy and in a good headspace, and self-advocacy are all vital.
Like Jonathan, Bonnie Mosen is blind. She is a skilled professional in the public relations and rehabilitation field. As Bonnie Lannom, her name and voice became nationally known in the US, through her public relations work with The Seeing Eye.
Via her popular job skills eBook, the blog, advice to individuals and organisations, and other training material, Bonnie will help you create opportunity, then maximise those opportunities. Whether it's putting together a resume/CV, dressing to impress, negotiating informational interviews to build your networks, nailing the interview or negotiating the salary package, she'll provide expert advice having successfully placed many blind people in employment.
We're not yet in some kind of golden age. The reality is, discrimination is a sad fact of life for most blind people, and it can really get you down sometimes. As a registered hypnotherapist and a keen student of self-improvement and meditation, Jonathan also posts and writes on how to get your mind in the right space to stay positive, focussed, and productive. As a health nut, Jonathan also talks about techniques and technology to ensure you're looking and feeling fantastic.
We appreciate you visiting, hope you'll visit regularly, and that through what we offer, you'll find some information here from us that leads to opportunity for you.